The Rahinge site is located near Tartu in South Estonia. The watershed area is around 9 km2. Land usage is mainly agricultural with some forested parts. There are several potential cources of nutrients from agriculture.
Continuous water sampling has revealed, that water in open water budi, i.e. in Rahinge main drainage ditch needs both phosphorus and nitrogen redduction.
To develop and study a new kind phosphorus filter a special water permit has been obtained from the Estonian Nature Agency. The construcion of the filter has been studied at laboratory level. A full scale filter will be established at the study site in 2011.
Rahinge site.
Rahinge ditch and sedimentation pool.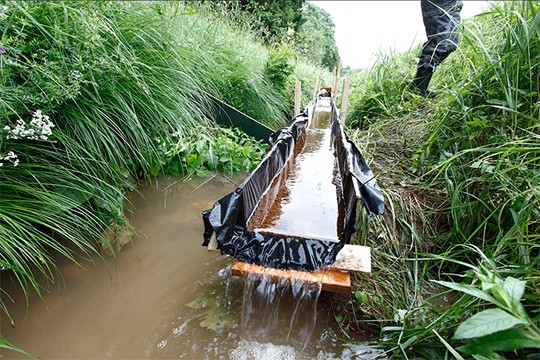 During summer 2011 Ca-Fe oxide granules were tested in Rahinge ditch. First, contact times and P removal were quite good and results were promising. Later the granules lost P retention capacity, which was most probably caused by algae growth. Algae formed biofilm that blocked P absorption of granules. In sites like Rahinge ditch, use of granules in buffers is problematic due to high water flow which leads to water ponds and burrows. When using granules in horizontal shelves, growth of algae and other water organisms can cause problems.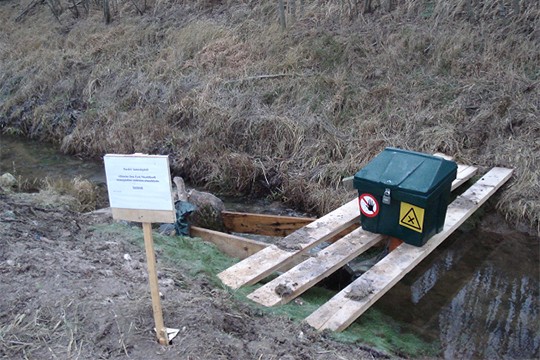 During summer 2012, Ferix-doser was assembled and tested in Rahinge ditch. The retention capacity of phosphorus in water samples varied from 5-90%, and the results were similar like in Finnish sites with Ferix-doser.