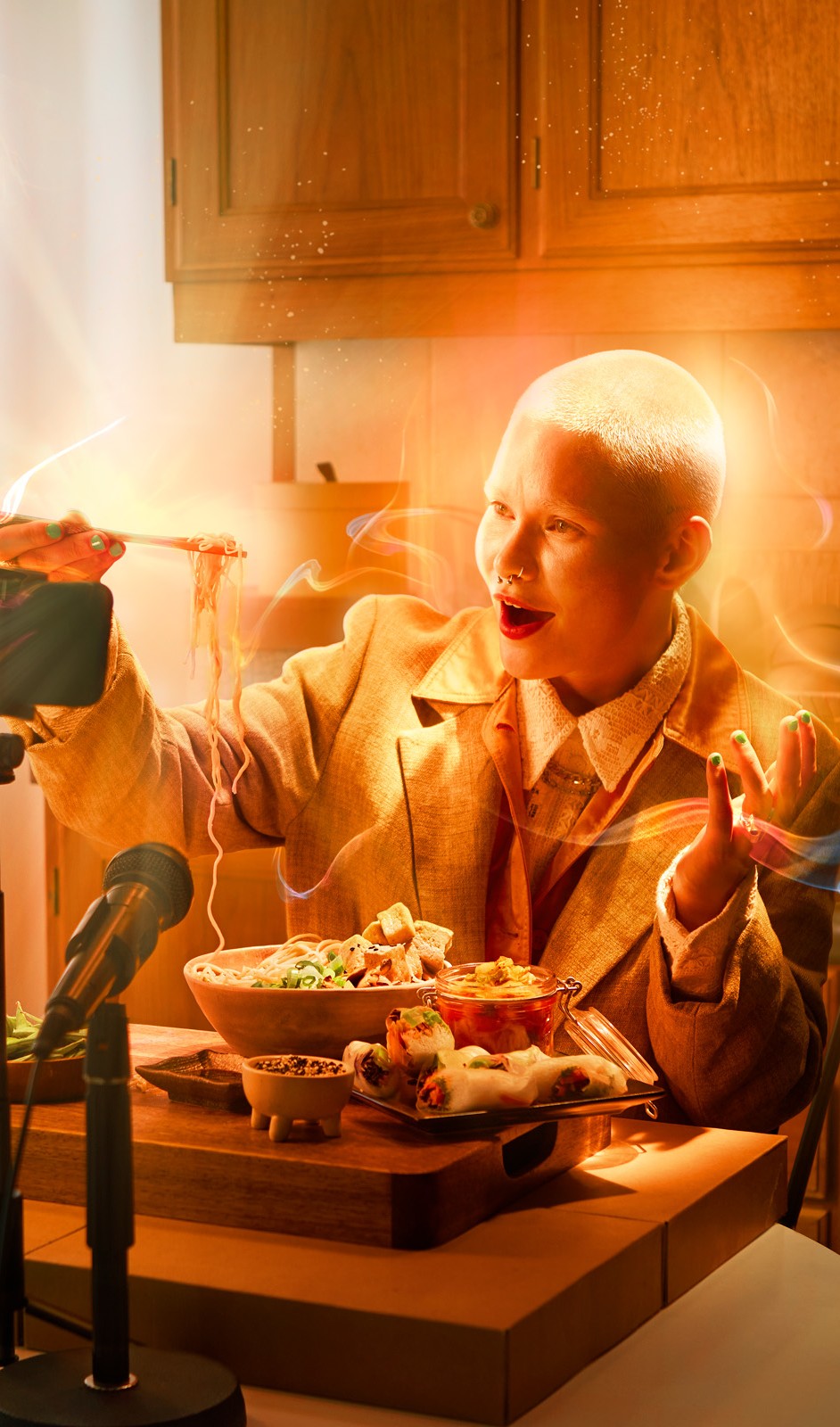 Eat4Change is a WWF-led, international project co-funded by the EU, pushing for a shift toward more sustainable diets and food production practices. Eat4Change strives to engage citizens, particularly youth, to take an active role in society and change their diets more plant-based for the wellbeing of people and the planet. The project started in May 2020 and continues to April 2024.
#Eat4Change
Background of the project
Global food production and consumption are the single largest human pressures on nature. Together they generate more than a quarter of greenhouse gas (GHG) emissions globally. Of total global food-related GHG emissions, red meat and dairy currently account for just over half. Particularly in Europe, diets are far from sustainable, with consumption of animal-based products exceeding the boundaries of sustainable or healthy consumption. Numerous recent studies have shown that a global shift towards healthier, more sustainable diets will combat climate change, improve human health and food security, reduce biodiversity loss and save lives.   
Eat4Change engages especially 15–35-year-olds European citizens to decrease animal-based products in their diets and increase the consumption of plant-based food. The project also highlights global interconnections and dependencies and demonstrates how individual diets can impact on the wellbeing of people and the planet and support achievement of sustainable development goals (SDGs). The project contributes to positive economic, social and environmental impacts in Europe and developing countries.   
By 2024 targeted European Youth 1) have greater awareness of the impact of diets on "People and Planet" and a critical understanding of their role as consumers and active citizens 2) contribute to sustainable development goals and climate actions by embracing more sustainable diets, influencing peers and supporting engagement with corporates and policy makers for improved practices and policy coherence. 
How?
A holistic approach is required to build sustainable food systems which operate within planetary limits and social boundaries. This project creates transformation from three angles:  
working to 

engage citizens, 

on healthy and sustainable diets

 

working with food producers and retailers 

on sustainable agricultural production

working to create an 

enabling policy environment

.  All project activities are supported by a robust evidence base.

 
Who?
WWF Finland will coordinate overall implementation of the project in addition to leading communications, marketing and markets work. Finland has substantial experience in managing EC funded projects and will provide support to 12 partners throughout implementation.
AIESEC will build on 70 years of experience in 120 countries in developing solution oriented, self-aware youth leaders with the ability to empower others.
WWF European Policy Office (EPO) with its unique expertise in EU policy making and advocacy will support engagement with EU institutions.
WWF Austria will lead youth engagement activities using extensive know-how of developing and implementing national/international youth empowerment and leadership programs.
WWF Belgium will use its agriculture and social sciences' research expertise to lead the evidence base work in the project, overseeing the coherence and quality of the studies.
WWF Sweden has nearly two decades of experience with food consumer guides; an internationally recognized social media team and established models for work with youth and schools.
WWF France will build on its work on sustainable diets and production practices to feed into consumer tools and engage with civil society through its work with companies and policy makers.
WWF Greece has 25 years expertise in environmental education, volunteer youth programs and capacity building with specific experience on education and campaigning for sustainable food consumption.
WWF UK brings 58 years of experience in engaging people and raising awareness, expertise of dedicated teams on food, climate and a solid track record of working with large multinational corporations.
Fundación Vida Silvestre Argentina (FVS) has been working to conserve Argentina's natural resources for 40+ years and build on its expertise with the agriculture sector to support linking European consumption to Argentine production.
WWF Brazil will build on experience of conducting partnerships and projects in important ecoregions such as the Amazon, and Cerrado, stimulating sustainable economic alternatives that both involve and benefit local communities.
Associação Natureza Portugal (ANP) knows how to create stable partnerships and engage stakeholders on the subject of sustainable consumption and communicate in innovative ways.
Estonian Fund for Nature brings experience of engaging people on environmental and climate issues. This knowledge will be used to relate when working with youth.
Eat4Change International Youth Team consists of youth between the ages of 18-30 and works closely with Eat4Change staff to ensure that the youth are at the center of the project. They bring their ideas, insights and knowledge to the project activities and work as a team to create youth-led actions.

Eat4Change platform for networking with other youth
We invite all the enthusiastic young people to connect with each other, create action projects, learn more about sustainable diets, participate in events and have fun in Eat4Change platform: i-eat4change.com
Join today

Eat4Change platform for networking with other youth
We invite all the enthusiastic young people to connect with each other, create action projects, learn more about sustainable diets, participate in events and have fun in Eat4Change platform: i-eat4change.com
Eat4Change project is mainly funded by The European Commission's Development Education and Awareness Raising Programme (DEAR). The DEAR programme supports projects that engage the European Union public in worldwide issues of social, economic and environmental development. DEAR activities also contribute to the EU's support for the universal Sustainable Development Goals to end poverty, protect the planet and ensure prosperity for all by 2030. 
Visit the DEAR Programme website to read more: http://dearprogramme.eu/​